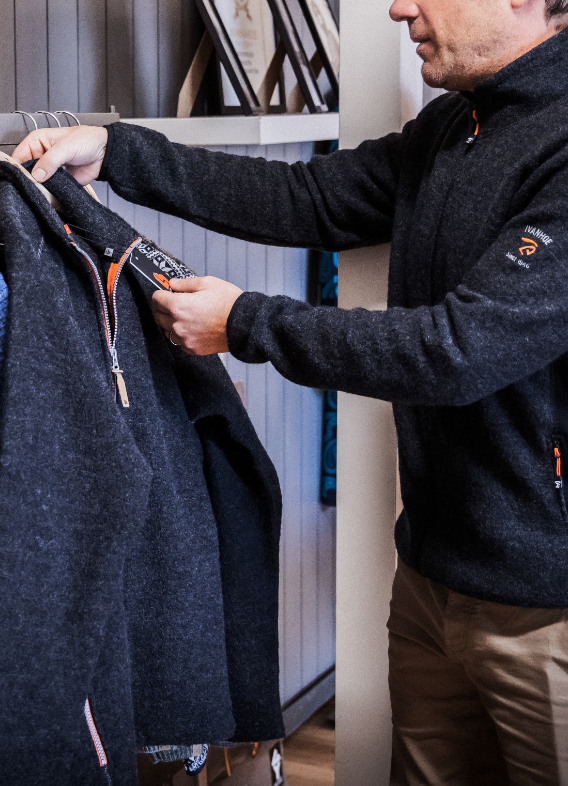 a sweater that we hold close to our hearts
Our design collaboration with Ivanhoe started already back in 2017. We wanted to offer a product of the highest quality where the material is perfectly suited to a craftsman's working day. The choice then became obvious to collaborate with Ivanhoe, which knits garments in wool and also has a local connection to us. Wool is a perfect choice for a craftsman who alternates between low and high intensity work, as the material regulates the temperature according to body heat. We have met Anders Göthager, CEO at Ivanhoe, for a short conversation about both sustainability and the importance of creating long-lasting garments.
Knitted in GÄllstad since 1946
We drive towards Gällstad along road 157 surrounded by deep forests, almost 16 kilometers from our head office in Ulricehamn, Sweden. Once there, we are surrounded by both forest and open fields with grazing animals - right in the heart of nature. Ivanhoe is a smaller company where they actively work to make a small impression as possible on the environment. They manufacturing long-lasting garments with timeless design in natural and environmentally friendly materials, and the result is clothing that can be worn for several years and also warms both body and soul at the same time. Today, the company is running by the third generation with Anders, together with his two sisters Anna and Karin.
I

STILL REMEMBER WHEN

I

WAS A LITTLE BOY HOLDING my GRANDFATHER'S HAND AND RUNNING AROUND AT DIFFERENT EVENTS, ALREADY being A PART OF THE COMPANY.
Anders tells us that for him it was crystal clear to work at Ivanhoe as it's a family business and as a little boy he got involved in the company and could see how a company is to runed. He explains further that he has worked in various departments in the company, such as in the warehouse, in production and sales, which has resulted in a good knowledge of the entire business.
WHY IS important for you to work with SUSTAINABILITY?
– For us at Ivanhoe, it is a hugh matter to work with sustainability and durable garments and not least to also inform our customers about the subject. We have frightening numbers that we today consumes 4.5 earth globes, but we only live on one. Today it's about creating a better world for your grandchildren who will grow up on earth, and then we have to protect and cherish all steps in the production. Everyone needs to take responsibility and think about details, as clothing stands for an incredible amount of emissions.
A WOOL SWEATER TO LOVE
The sweater that Anders wears is produced in 100% felted wool. A stable and robust quality that can be worn all year round and becomes a long-lasting garment to wear. Materials such as wool are completely natural with many fine properties and do not attract odors. Yes, the sweater can even clean itself as long as you air the garment. The sweater is also embellished with subtle seams and carefully selected details. There is no doubt that nature is close to the heart in product development at Ivanhoe.

M

ATERIALS SUCH AS WOOL ARE COMPLETELY NATURAL WITH MANY fine PROPERTIES that keeps AN EVEN AND NICE TEMPERATURE AND also DOESN'T ABSORB ODORS.
Subtle seams and carefully selected details, gives the feeling of premium quality.

sweather for both men and women
WHAT'S HAPPENING RIGHT NOW IN THE COMPANY?
– There is a lot going on and right now we are looking at the next year's collection for autumn/winter 2023. We always reviews what last year's collection gave to set all the colors, details and prices for the coming collection. We may be a bit late, but we like to see the results of what has generated sales and then avoid taking chances what our customers wants to buy.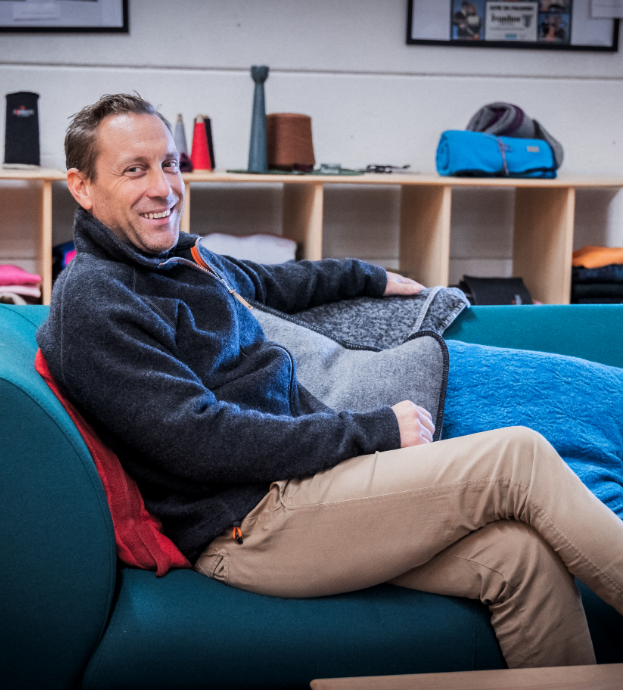 Anders Göthager
Years at Ivanhoe: Many, I started back at 1995.
Work title: CEO
Family: Married and two kids, Martin and Maja.
The best about my role: It's definitely the speed in the production. I can get an idea that I speak about with my sister, which then can generate a draft in just a few hours. I think that is fantastic and very inspiring. Then I also enjoy having daily contact with all our fantastic salespeople.